(SB-13A) SBI 遂單罰息管理程式
(SB-13B) SBI

現金客戶欠數罰息系統
(SB-13B) SBI (PFS-PENALTY INTEREST SYSTEM ON CLIENT'S BALANCE)
For cash clients who settle their purchase due later then the settlement date are to be surcharged with penalty interest. This system will calculate the net total for the principle of interest, and allow client to offset their sold amount with bought amount.
<![if !vml]>

<![endif]><![if !vml]>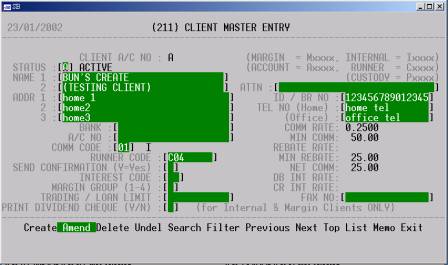 <![endif]>
處理客戶戶口結欠,將逾期未付之購貨款,以一特定息率計算,方法仿效孖展客方式,即未到交收日之欠數不于計息. 每月結息並將結餘更新.採用此法,可以節省人手處理各種消數工作,亦較公平.
<![if !supportEmptyParas]> <![endif]>
<![if !supportEmptyParas]> <![endif]>
<![if !supportEmptyParas]> <![endif]>
<![if !supportEmptyParas]> <![endif]>
<![if !supportEmptyParas]> <![endif]>
<![if !supportEmptyParas]> <![endif]>
<![if !supportEmptyParas]> <![endif]>
<![if !supportEmptyParas]> <![endif]>