附銀行盤用交收指示整批處理(BUILT-IN 'SI' UPLOAD SYSTEM)
Bank client system is a special management module to handle special type of client (bank's client). A bank is considered as an OMNI-BUS account client to a broker representing many clients. A broker firm will produce trade journal for this bank every day. A broker also prepare SETTLEMENT INSTRUCTION BATCH FILE UPLOAD in order to transfer all received stock to the bank's own CCASS account.
<![if !supportEmptyParas]> <![endif]>
The basic system can handle transaction for one banker. Additional add-on system will be required to cater multi-banker's client. An add-on has two additional bankers. Therefore, install one add-on module will allow SB-28 to manage three banks (including the original bank account) each has its own participant ID for SI batch file upload generation.
<![if !supportEmptyParas]> <![endif]>
Selections:
BANK CLIENT SYSTEM (Single counter party)
BANK CLIENT SYSTEM ADD-ON (Three parties)
ADDITIONAL BANK A/C (from 4th parties, additional)
<![if !vml]>

<![endif]><![if !vml]>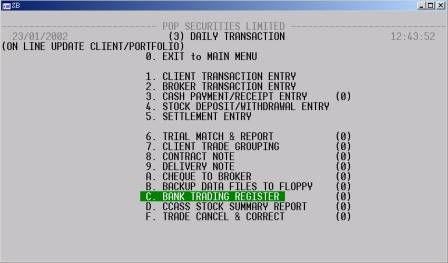 <![endif]>
主要針對股票公司代理銀行客買賣股票後,要以SI將買入或賣出股票過戶至銀行的戶口.一般來說,對手衹有銀行一個.因此程式編寫可以集中處理其SI.. 超過一個客戶情況下,系統加入用戶自選SI對手,並向不同對手發出SI指示.
售價以單一對手基本價錢計及 加入附加件後處理三個對手行家
三個銀行以上,每加一行家, 加入單一附件.
<![if !supportEmptyParas]> <![endif]>