SB-64

PRINT CLIENT CHEQUE OPTION
When cash type account ('A' type) sell stock, usually they will get one cheque for each sold contract, or a check with amount after offset of several bough and sold contracts. However many cash type client with active transactions do not demand a cheque every time and prefer to get paid on demand. Adding this option will have a selection field in the master file. When the field is set as 'N', POP system will not print out the cheque on day trade.
<![if !vml]>

<![endif]><![if !vml]>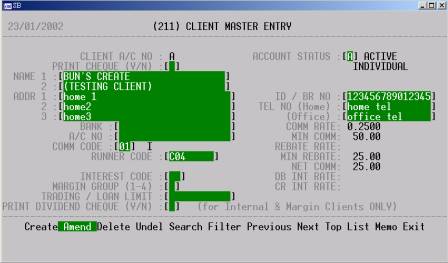 <![endif]>
現金客戶進行買賣後, 很多時會收到多張支票, 或一張綜合多宗交易的支票, 部份頻頻交易的現金客戶, 並不希望經常收取支票,寧願在申索時收取. 在POP系統加入此功能, 可以在客戶記錄中加入標記, 可以注明不印支票. 不印支票, 是表示賣出股票當天,不會自動印出支票, 而是由客戶要求才開出支票.
<![if !supportEmptyParas]> <![endif]>
開出支票,可以是手開票, 或加入錯誤! 找不到參照來源。 用POP系統來印出電腦支票.
<![if !supportEmptyParas]> <![endif]>
<![if !supportEmptyParas]> <![endif]>
<![if !supportEmptyParas]> <![endif]>
<![if !supportEmptyParas]> <![endif]>
<![if !supportEmptyParas]> <![endif]>
<![if !supportEmptyParas]> <![endif]>
<![if !supportEmptyParas]> <![endif]>